Since trying Firefox browser recently I noticed on our main page that a facebook add overlaps most of the Community Forums button. Did not notice it doing that when using Google Chrome browser in the past. Could be just something peculiar with my setup. Still able to click around the advert box to access the forums. Mostly just giving a heads up because if someone is new to our site and this happens to them. They may have a little trouble finding where to click to enter the forums. I knew where the button was but it still gave me pause for a second while I thought 'Where did the forum access go?'
I highlighted with a light blue oval on the attached picture to show what I mean. Waited for about a week before saying anything in case it was just a temporary glitch in the matrix on my side and would correct itself. Happens with multiple, monitor screen sizes ... an x1080 and an x1440 (screencap). Comes close to overlapping, but not quite with an older x780 laptop.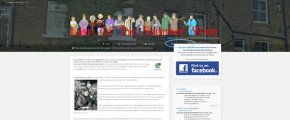 added - attached picture got shrunk more than expected posting here. I can post it to another website and link here if need be.