I've been collecting the various "Vintage" DVDs on eBay over the years. Still a few holes which I have email alerts. This morning I received one for a 2009 @ $29.99 USD (which was high for what I'm shopping for) but it said it was not used. With free shipping this would be understandable.
I also remember shop.bbc.com was selling the lsat few years so I went there to compare. Was totally shocked to see not only was 2009 the last year they had in stock but that it had been marked down "slightly".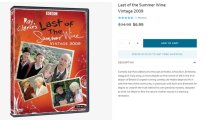 Came out to a little under $15.00 USD after tax and shipping. Brand new!