A photo of our Smiler / Stephen Lewis from
On the Buses
show as Cyril Blake showing Stan Butler a picture of him and his twin sister. Stan was interested in marrying Blake's niece and Cyril was showing him what her mom looked like.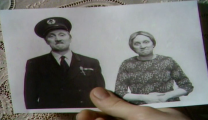 Thought it worth a chuckle. Reminded me there was a show called
Don't Drink the Water
in which Inspector Blake moves to Spain with his sister after the On the Buses show. Only saw a few episodes - not enough to get a good feel of the show.