Hi everybody. I don't know why it never occurred to me to post this on the forum (I spend far too much time on Facebook, I suppose!), but Bob Fischer and I are currently touring England with
Summer Winos,
a revised version of the Last of the Summer Wine tribute we took to the 2018 Edinburgh Festival. This is
not
a recreation of Last of the Summer Wine episodes, but is instead a celebration of the show that features games, silliness, a bit of dressing up, and even a touch of music. We've got lots more dates coming up and so far it's been lovely to meet fellow fans in the bar afterwards!
Our show in Halifax on the 25th of June is a special one, as our usual daftness will be preceded by a screening of the episode "The Man From Oswestry". We'd love to see some of you there or anywhere we might happen to be heading.
Hambledon Productions Presents…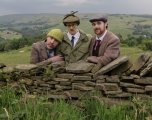 SUMMER WINOS: LIVE!
with Andrew T. Smith and Bob Fischer
Two Men, Two Hundred and Ninety-Five Episodes, One Obsession…
When does a fondness for a TV show become an obsession? Andrew and Bob's gentle love of
Last of the Summer Wine
quickly become a quest to watch all 295 episodes. In order. While visiting locations. Making films. Meeting the cast. Boozing with the writer. And, ultimately, turning their passion into a live stage show. But they're not obsessed. Are they?
In August 2018, Andrew and Bob performed their show at the Edinburgh Fringe Festival to hundreds of appreciative
Summer Wine
fans. And now, fuelled only by cream scones and strong Yorkshire tea, they're taking it out on the road. With dressing up, audience participation, overly-earnest reminiscing, and – brace yourself – kazoos, Andrew and Bob take to the stage to explain just how
Last of the Summer Wine
has taken over their lives, and what YOU can learn and love from the world's longest-running sitcom!
Friday 24th May
Square Chapel Arts Centre,
Halifax
ON SALE |
01422 349 422
|
www.squarechapel.co.uk
Thursday 30th May
Shire Hall,
Howden
ON SALE |
01430 432510
| www.howdenshirehall.co.uk
Sunday 2nd June
The Exchange,
North Shields
ON SALE
| 0191 258 4111|
www.attheexchange.info
Tuesday 4th June
Little Theatre,
Doncaster
ON SALE
| 01302 340422 |
www.doncasterlittletheatre.co.uk
Friday 7th June
Middlesbrough Theatre,
Middlesbrough
ON SALE
| 01642 815181 |
www.middlesbroughtheatre.co.uk
Sunday 16th June
Spotlight Theatre,
Bridlington
ON SALE
| 01262 678258 |
www.spotlighttheatrebrid.co.uk
Friday 12th July
Oldham Library,
Oldham
ON SALE
|0161 770 8000|
http://www.oldham-council.co.uk
NOTE: This performance forms a double-bill with "
Carry On Celebrating!"