Hi all,
Wanted to post a little write up on the Last of the Summer Wine Complete DVD box set series 1-32. Yes, there are only 31 series total but for some reason starting around series 10 or 11 they get ahead of themselves and mislabel them and add an extra 1 to the count. You think with the BBC name on them they would have gotten the numbering right.
The set I got is PAL region 2 which is not a playback problem for me. It is produced by Universal Studios / Playback / BBC and contains all the episodes that aired which I think is 295 on about 50 something discs. I have it written down somewhere...
All the Christmas and New Years episodes including the pilot, as well as, Getting Sam Home are in the collection. Make sure you get the current box set release 2017-2018+ because the box set released a few years earlier did not contain the pilot - from what I have read.
The only things not in the box set are some documentaries and interviews. Such as:
- The 25th Year Anniversary special, this got updated with new content and replaced as the 30th Year Anniversary special. This can be found on the US Netflix DVD Vintage 1995 episodes of series 7. Also there is a Tribute to Thora Hird on this disc.
- An interview with Roy Clark - In Conversation. On US Netflix dvd Vintage 1977 episodes of 4th series.
-Interviews with Peter Sallis, Brian Wilde on the US Netflix dvd Vintage 1976 series 3.
-There is also a featurette series 6 December 1982 titled The Funny Side of Christmas from the US Vintage 1995 disc. Compo brings by 3 'orphans' to visit the lads on Christmas day.
The Pilot episode is on the final disc. Some of the Christmas / New Years specials may be at the end of the next years series. It seems that they did this due to lack of space on the previous series disc and just put them in where they had room. A bit awkward timeline-wise but I prefer that to over compressing the episodes to squeeze as many on a disc as possible. They do highlight and make note of the specials on the back of the dvd box cover.
There are no inserts of pictures or story notes inside the cases. The DVD's have the series name on them and the dvd number for it's box. The back cover of the box gives a brief bit of info for that series and a list of it's dvd's with the episodes. The dvds overlap and are held in place by push tabs that are common for plastic box cases. The dvd's that I have played so far have a title menu with episode selection with a nice picture background of some of the characters.
One of my favorite things is that it seems all the episodes have subtitles! Which is great because sometimes when they say a street name or reference some person we never see or some product one may not be familiar with it can be hard to make out exactly what is said.
The image quality is very good for shows of that time period. It looks like to me how it may have been when they originally broadcast it over the air. Could have used a slight bit of noise clean up and maybe some slight white balance correction with some episodes. Still much, much better than watching from a well used VHS or poor quality youtube copy from over a decade ago.
The episode guide on this site is complete and I thank those who put it together. The list I had cobbled together from internet sources before I discovered this site had some errors. A few episodes were listed twice under different names. I'm really glad to have our list, here is a link, but is on the forum home page just scroll down.
https://www.summerwine.net/community/threads/episode-guide.9248/
Here is a pic of the box collection I got. Credit for the picture goes to the ebay person I bought it from.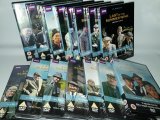 All in all I think this is an awesome set for any fan of the show. Well worth it. If you have any questions I'll try to answer as best I can. Thanks for reading through my ramble.
Cheers,
Rick
Last edited: