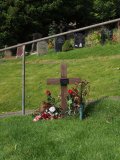 I walked up from the Holmfirth town center this morning to take a look at it. Thank goodness the church was open; I needed to sit down and rest after the walk.
Than up the stepped path to the two graves just as the sky brightened a bit.
As you can see, a blanket of turf has been laid over the raw earth, but the soil is still settling so no headstone yet, just the funeral home's temporary marker. All in good time.
Last edited: